November 20, 2009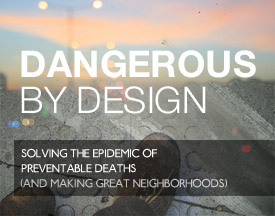 This month, University of Maryland graduate student Lilly Shoup cowrote a report, entitled "Dangerous by Design," that ranks metropolitan areas based on the relative danger of walking.
The report has received national media attention, including articles in the Washington Post, the Boston Globe, and USA Today. The report was also discussed on National Public Radio's Morning Edition.
Shoup is an Urban Studies & Planning graduate student who co-wrote the report as part of her work with Transportation for America.
Click here to read the full "Dangerous by Design" report.
Image copyright 2009 Transportation for America

---
The School of Architecture, Planning and Preservation at the University of Maryland is home to four academic disciplines: architecture, urban planning, historic preservation and real estate development. Committed to educating its students and community about the importance of sustainability and smart growth, the School practices an interdisciplinary approach to education, research, creative work, and community and professional service. For more information, please e-mail us or call 301.405.8000.
School of Architecture, Planning and Preservation | Collaborative Education for a Sustainable Future